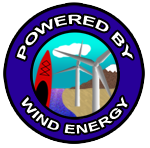 Kayak Crazy, Inc.
was founded in
April of 2011.
Being avid kayakers, we want to do our part on cutting down on pollution. The website's server is powered 100% by wind energy.
What is Kayak Crazy?
Kayak Crazy is an international network of kayakers who provide valuable information, resources and conversation space to newcomers and veterans alike. We are proud to have a well informed community who focuses primarily on safety and sustaining the environment.
Our Mission Statement:
At Kayak Crazy, we are committed to establishing a seamless connection paddlers, retailers, manufacturers, and tour companies to enhance business-to-customer relations. These relations provide a better overall experience to our entire community.
Why we started KC:
The first problem we ran into as we tried to step into the world of kayaking was... well, "Where to start?!" To our surprise; we couldn't easily find the valuable information that we were searching for: What type of kayak or gear do we need? What safety information do we need to know? Do we need to register our kayaks with our state or is there other legal information we need to know? Etc...
Using what information we found, we went ahead and purchased our kayaks and paddles. We also bought our PFD's and once in the water, we realized that with the information we had retrieved through trial and error, we were quite unprepared for the entire experience. We wanted to prevent others the unsatisfactory supply of information that we were supplied with. And we wanted to present it in a professional and easy to read manner.
We Delivered.